Featured products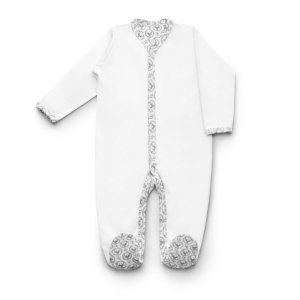 About Us
Ecological Dear Eco clothes for the children are the synonym of nature, beauty, durability, and dreams come true. Our collection inspired by fairy-tale Norway is created based on natural resources, which are the best protection for delicate children`s skin. Ecological fabrics aren`t the only distinguishing feature of our company- fashionable and tasteful clothes are created as if by magic and our tailors take care of every the smallest detail to get clothes straight from fairy-tale, worthy of every princess and prince.
Exclusive clothes for newborn
Making our ecological clothes, we pay attention to the quality-you can`t find there any sign of chemicals, harmful chromian compounds, GMO, heavy metals, or pesticides. We decided to choose the best organic PIMA cotton and it means noble fabrics with extremely long fibers, which directly translates into soft and fluffy clothes. It differs from traditionally cotton among others-much more delicacy.
Apart from designer clothes for the youngest, we offer also velvety relugan n products-it`s subtle lambskin covered with enveloping bristles. It has natural thermoregulatory properties, which guarantee a warm in winter and cooling in summer. Available by us relugan sleeping bags, mats, and trolley inserts will hug your`s baby skin, giving comfort, safety, and luxury.
Dear Eco clothes and accessories are premium products, which we make solicitously, with nature and a little bit of magic. You can by us find:
⦁ ecological clothes for newborns- we create them from organic PIMA cotton and muslin. Up to offered by our products belong to children`s bodies, romper suits, shorts, pajamas, sweatshirts, dresses, and t-shirts. Even nubs we make based on natural courses-coconut, and visible labels are easy to remove, without leaving irritating threats and ends;
⦁ natural material accessories- we make them from the best feedstocks, guaranteeing safety, convenience, and proper development of your child. They are hats, mittens, stylish bow ties for boys, cute hairbow and elements of basic children's layette-sleeping bags, blankets, created of silicone and wood teething rings, trolley inserts, Medical Sheepskin mats, and sleeping bags, natural hair brush, soft toys, sweet bandamas, practical bibs, and adorable booties and socks, and also something for mums-a huge eco-bags, ideal for walks.
⦁ Sets-they are sets of bamboo muslin squares. They can be used like baby swaddles, little thin blanket, good for warm days. They are for the most part favorites cuddly toys of the newborns.
The philosophy of our company is beauty hidden in a small gesture. The only natural, without harmful chemical substances, created with sens of style and esthetics clothes and accessories for children brings life into not only comfort but also high standards and sense of accomplishment fairy-tale dreams.